Laughlin Mandola
Click to View the most recent Laughlin Mandolas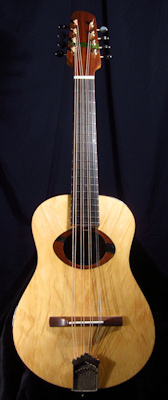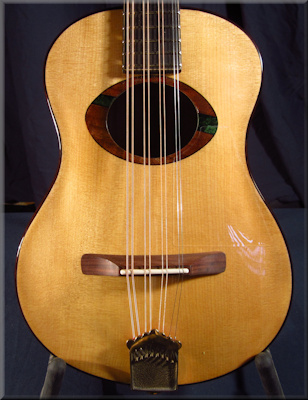 16 1/8" scale length.

Flattop or Carved top and back.

A-style or Guitar-shaped.

Sideport is standard.

The non-adjustable neck is reinforced with a 3/8" wide by 1/2" deep graphite-epoxy bar yielding an optimal neck relief of .003".

Bone insert saddle allows for simple action adjustments by Laughlin Guitars (lifetime adjustments included in price).

A choice of woods both traditional and non-traditional are available for all components.

An Allen cast bronze tailpiece is standard equipment. Gold Allen tailpiece optional.

K&K Twin Internal pickup $240 option, permanently installed during the build.

Back to Laughlin Guitars Home Page